The 2018 Charlie 22 Outdoors Dinner Banquet was a tremendous success. Mission Accomplished. In May, the goal was 50 people in attendance. When August got here, we began to prepare for 200. Even then the goal remained 50. We do not have exact numbers, but we handed out over 250 door prize tickets. Many people did not take one. Wow! Thank you for all of the support and prayers. None of this is possible without God's grace and your efforts.
We started the night off with a video. It clearly demonstrates why we do what we do. Here is the link to it. Joe Ronk Memorial Video
To show our commitment to trying to stop the 22 veteran suicides a day, we presented a 22 rifle to the 22nd adult to enter the banquet. He just happens to be a Vietnam veteran. He are photos of him accepting the gun from Captain Joe Ronk's mother.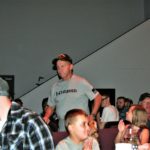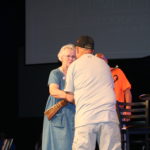 Continuing our fight against the demons of PTSD, we partnered with Chris Endicott. He runs Lifting For the Fallen. Their mission is to honor those who have fought for our Country. Every purchase made from the company will help financially support the family of a fallen hero. Justin Baughman lost his battle with PTSD on March 18th, 2018. Accepting a check at the banquet were Justin's parents, Susan and Doug Doyle. The presentation picture is below.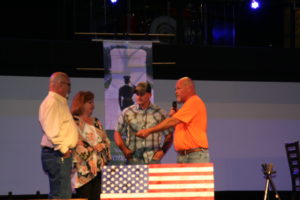 Thank you again so much what you have done up to this point. It is awesome to see people want to contribute and be a part of what we are doing for God's kingdom. Please pass this on and share with your contacts. We look forward to hearing from you and working with you as we continue to, "Serve those who have already Served."