30 guns in 30 days Raffle Featuring Black Rain Ordnance
30 guns in 30 days raffle from July 1-30. Each morning 1 entry will be drawn. Winner selects from remaining guns. Winning entries are eligible to be drawn a 2nd time. Black Rain Ordnance guns are featured each Saturday: July 10, 17, and 24. Winning entry on those mornings gets the corresponding Black Rain Ordnance gun. And then each non-winning entry for the 30 in 30 raffle, will receive 1 entry in the raffle of a custom Black Rain Ordnance .308 with Hawke Optics. That drawing will take place at in conjunction with the Black Rain Ordnance Community Event (Date TBD). Winning entries must pass background checks before taking possession of guns. Winning entries are also responsible for all fees associated with transfer and shipping. Entries can be purchased for $100 each. Only 1,000 entries will be sold April 1-June 30. Check, Cash, or Card (4% Card fee). Purchase entries online through our Donate link or in person at Black Rain Ordnance.
If you use the donate link, there is a section that says, "Add special instructions to the seller:" In that section, type these words, 30 guns in 30 days Raffle. We will then add your name and the entries you have purchased into the pool of entries. After that, we will send you your entry numbers.
All the funds raised from this raffle go to preparing for our upcoming events. Contact us if you have any questions. 417-437-7247.
We love and thank you all for your support.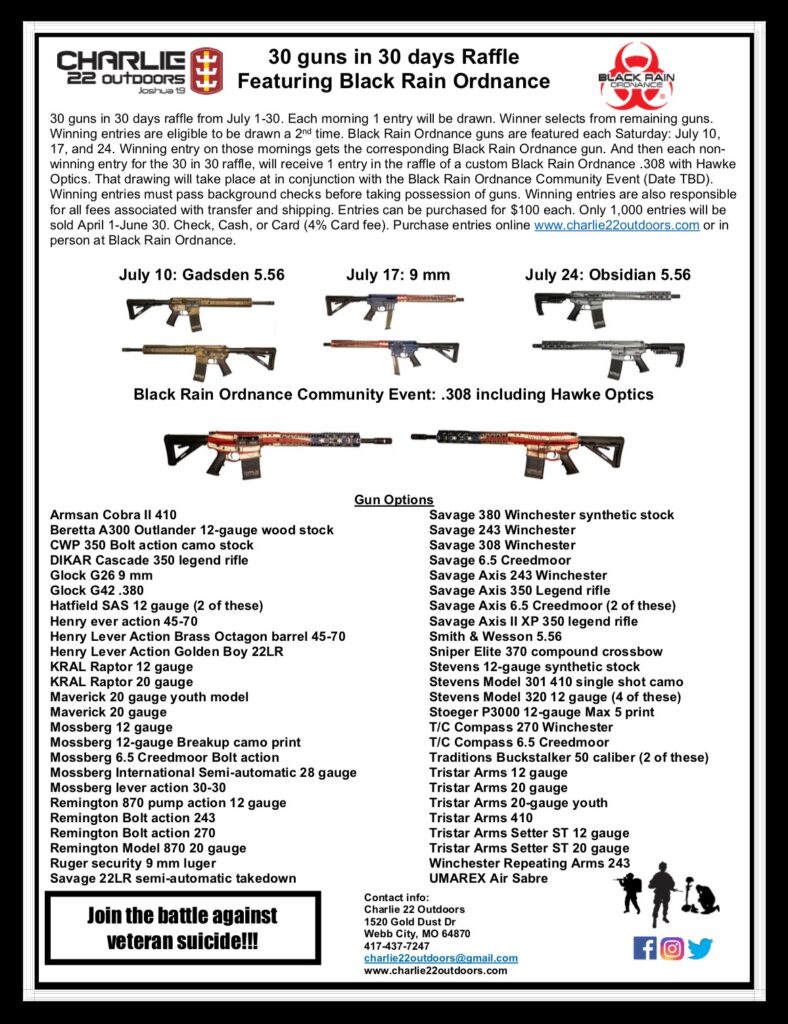 .308

9 mm


Gadsden 5.56


Obsidian 5.56