30-in-30 Raffle featuring Black Rain Ordnance is September 1-30.
Each morning 1 entry will be drawn.
Must pass background checks and are responsible for all fees associated with transfer and shipping.
Tickets can be purchased for $20 each. $100 for 6 tickets. Each ticket can be drawn twice.
Purchase tickets Online or in person at Black Rain Ordnance.
If purchase online, in "Write a note" please put 30-in-30. We will email you your numbers.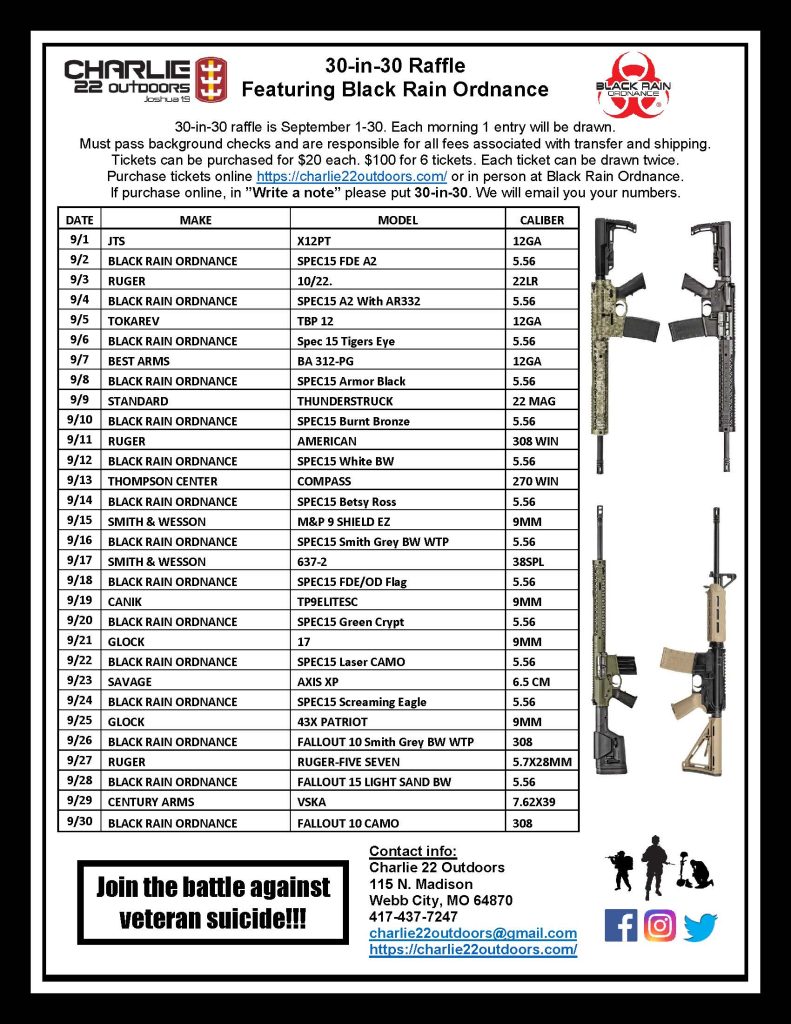 | | |
| --- | --- |
| DATE | NUMBER |
| 9/1 | 03554 |
| 9/2 | 03733 |
| 9/3 | 05692 |
| 9/4 | 03627 |
| 9/5 | 01095 |
| 9/6 | 05470 |
| 9/7 | 03724 |
| 9/8 | 05608 |
| 9/9 | 02876 |
| 9/10 | 03783 |
| 9/11 | 02311 |
| 9/12 | 05474 |
| 9/13 | 04826 |
| 9/14 | 05032 |
| 9/15 | 05691 |
| 9/16 | 03188 |
| 9/17 | 05543 |
| 9/18 | 05658 |
| 9/19 | 03775 |
| 9/20 | 02690 |
| 9/21 | 04137 |
| 9/22 | 05658 |
| 9/23 | 04805 |
| 9/24 | 03240 |
| 9/25 | |
| 9/26 | |
| 9/27 | |
| 9/28 | |
| 9/29 | |
| 9/30 | |