The Mission, of Charlie 22 Outdoors, is to provide outdoor activities to our nation's veterans with the goal of showing them there is hope, love and a personal meaning in God's grace.
Charlie 22 Outdoors was founded, as a result of our passion, to "Serve those who have already Served." We are a 501(c)3 non-profit organization based out of Webb City, Missouri. We have no paid staff and our Board of Directors are all volunteers.
You may or may not be aware of this, but every day in our country 22 veterans commit suicide. That total is more since 9/11 than all together the number killed in action from the Korean War through today's conflict in the Middle East. This has to stop. The PTSD and the personal demons they face are very real. We provide our events free of charge to those we serve and their families. We cover all expenses including travel, lodging, food, tags, guides, taxidermy, and meat processing. We believe that healing can take place when a relationship with Jesus Christ is formed.
The name Charlie 22 Outdoors comes from a couple of places. First, and most importantly, we are combating the 22 suicides a day. Secondly, it comes from one of our founder's background. Scott Hettinger was raised in a military family. His father, Sergeant First Class (SFC) Jess Webster Hettinger III, was a soldier. He enlisted in 1970, and went through basic training at Ft Knox, Kentucky. His AIT was Ft Leonard Wood, Missouri, where he became a Combat Engineer. From there, he was stationed at Dexheim, Germany, from 1971 to 1972. After returning stateside, SFC Hettinger joined the Michigan National guard until 1975. It was then that he re-enlisted, and was stationed at Ft Hood, Texas. In 1976, he was sent to Darmstadt, Germany, and returned to Ft Leonard Wood in 1979. Here he was a drill instructor at Charlie Company – 2nd Battalion – 2nd Brigade (Charlie 22). In 1983, he was sent to Ft Carson, Colorado. SFC Hettinger developed leukemia, and was retired on the Temporary Retirement List until his health could be resolved. Unfortunately, his health deteriorated, and he passed away in 1986. During his time in service, he was a demolition expert, and attended the engineering academy three times at Ft Belvoir, Virginia. SFC Hettinger was fully retired as an E7. He was awarded the National Defense Service Medal, the Drill Sergeants ID Badge, the Army Service Ribbon, the Overseas Service Ribbon, NCO Professional Development 3 Times, the Army Commendation Medal, and the Meritorious Service Medal. Growing up in this household, Scott Hettinger developed a respect for our Nation's Military, and what our service men and women do for the United States of America. As an adult, he wanted to give back to them. So together with Curtis King, AJ Stock, JD Whitledge, Russ Wicklund, and Matt Harenza, Charlie 22 Outdoors was founded.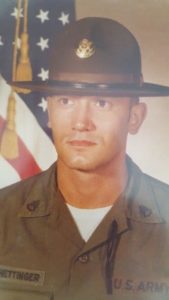 SFC Hettinger